Reflections from the Interim Executive Director
Dear Alliance Members,
I have led networks of organizations working toward gender equity for a long time. So I was delighted to receive a call from Emma Mayerson, asking if I would lead Alliance for Girls (AFG)  while she takes a sabbatical. In my experience, there is nothing more powerful than collaborations of women who are directly in touch with other women and girls, to advocate for change. I've seen this work with the White House, Governor's offices, School Districts, and corporations –  shifting priorities and policies with solid, data-backed evidence of a better way to do things; a way that centers equity.
While I've been a fan of AFG (and Emma!) for a long time, over this past month, I have had the chance to experience exactly how AFG gets it done. Working in collaboration is baked into its DNA.  In every meeting I've been in, mention of members, partners, and allies is central to the discussion of what we are doing, why, and how to ensure lasting impact. Now, in response to the virtual way many of us are working, AFG has created the AFG Learning Hub, an online platform to house the best of members' workshops, so they can be accessed any time, anywhere, and reach a much larger audience. That's impact!
Please stay safe, well and hopeful, and remember that Alliance for Girls is here to support you.
---
Alliance for Girls (AFG) Updates
*NEW!* AFG Learning Hub
Your new AFG Learning Hub is the first on-demand, interactive production of trainings for girls' organizations of its kind! We have partnered with AFG member Rainbow Community Center to offer the first course: our highly-requested Intro to Sexual Orientation, Gender Identity, and Expression (SOGIE): Affirming Approaches and Expansive Practices!
Safer Schools 101: Know Your History, Policy and Rights
We are excited to share that Oakland Unified School District has included AFG's girl-produced sexual misconduct prevention and educational videos in their Healthy Oakland Teens Curriculum Teacher Resource Folder! This means that the videos are available to all sex education teachers as supplemental materials to use when covering sexual harassment, consent, and other forms of sexual harm.
Not One More Girl Campaign Honored by SF Transit Riders
On October 1st, the SF Transit Riders presented AFG's Advocacy Director, Haleema Bharoocha, with a Rider First Award for her work on the #NotOneMoreGirl campaign—an impactful campaign that is changing policy to address gender-based violence in concrete ways, in addition to educating the public and raising awareness. Haleema is offering office hours on the fourth Monday of each month from 1-2pm for those who want to learn about and engage in AFG advocacy efforts.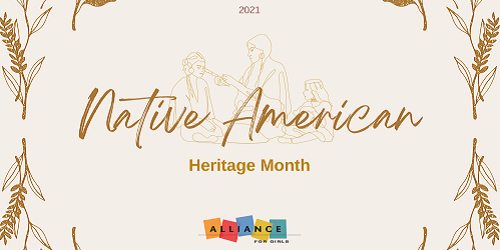 November is Native American Heritage Month
Alliance for Girls honors that Native American heritage is complexly intertwined with that of our country, and acknowledges Native communities' resiliency in overcoming historical and current atrocities as well as their work to transform the legacy that remains today into healing and restoration. We are committed to supporting their efforts, living out the values of inclusiveness, collaboration and participation, and treating everyone with dignity and respect. Please follow and support these Native women-led organizations in the Bay Area: California Consortium for Urban Indian Health, American Indian Child Resource Center, and the Sogorea Te' Land Trust.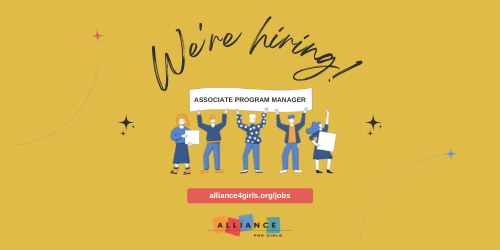 Looking to score a job with our amazing team? You're in luck.
AFG is looking for an Associate Program Manager who will support our systems-change model around meeting the needs of girls and gender-expansive youth in the Oakland Unified School District. Could this be you?
Policy Updates
Menstrual Equity for All Act of 2021
On October 8th, Governor Gavin Newsom signed Assembly Bill (AB) 367, the groundbreaking Menstrual Equity for All Act of 2021. AB 367 will require all public schools serving students in grades 6 to 12, Community Colleges, and California State Universities to stock restrooms with an adequate supply of free menstrual products, commencing in the 2022-23 school year. Learn more here.
National Strategy on Gender Equity and Equality
The United States has launched the first-ever National Gender Strategy to advance the full participation of all women and girls in the United States and around the world, with an intersectional approach. The strategy identifies ten interconnected priorities. Learn more here.
AFG Member Spotlight: About-Face 
AFG member About-Face works to arm girls with the knowledge and tools they need to fight back against a culture that diminishes and disempowers them. AFG recently spoke to their Executive Director, Jennifer Berger, about what the organization has currently been working on.
When Young Moms Thrive, We All Do!
Parenting while young is hard. System-impacted young moms have even more barriers to accessing resources and support that would enable them to thrive. Our When Young Moms Thrive Program with the Young Women's Freedom Center in Santa Clara County provides advocacy, support and access to income through an internship that offers competitive pay to help young parents provide for their children. Are you a current and former system-impacted young mom in Santa Clara County? Use your voice and experiences to lead change! Join our focus groups and get paid up to $600. Contact jocelyn@youngwomenfree.org or text/call 408-706-3143.
Upcoming AFG Learning Opportunity
Expression-Driven Teaching: Facilitating Brave Spaces for Youth
How can we facilitate brave spaces for youth where they can communicate and express themselves authentically? Register for our upcoming workshop series, led by AFG member The Practice Space, to learn how to cultivate youth voice and joy, while also creating opportunities to learn from the voices of young people. The series begins in exactly one week, on November 16th!
*"Girls" refers to gender-expansive youth (cis girls, trans girls, non-binary youth, gender non-conforming youth, gender queer youth and any girl-identified youth).